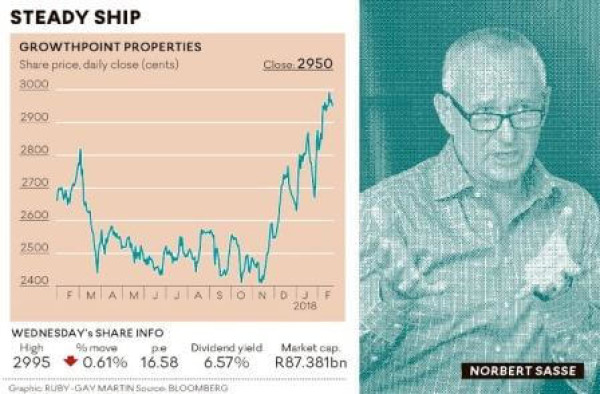 SA's largest property company, Growthpoint Properties, is sticking to its knitting and not taking any extraordinary risks while its competitors face a host of challenges, according to CEO Norbert Sasse.
Sasse spoke on the sidelines of the release of the group's financial results for the six months to December, which he said was the toughest half-year period for the real-estate investment trust (Reit) since the 2008 recession.
Growthpoint posted distribution growth of 6.5% per share, meeting its guidance, while it grew its asset base to R127.7bn.
Similar dividend growth was expected for the full year to June 2018. Growthpoint increased its total distributable income by 10.6% from its prior half year to a substantial R2.9bn.
Group property assets increased 4.4% to R127.7bn and group net asset value grew 3.9% to R25.93 per share.
Sasse attributed this positive performance to strong contributions from the V&A Waterfront in Cape Town and its east European arm, Globalworth Real Estate Investments. The company looks set to be a reliable performer in 2018, with Sasse confident that the economy will gain momentum. While some offshore-focused JSE-listed property companies' returns have been weakened because of the stronger rand and some have been sold off due to the perception that they were overvalued, Growthpoint's strength has been that it has continued to run a diversified but risk-averse strategy, according to Sasse.
"While the listed property sector's overall returns have been weak in 2018 so far, this is because of mostly the Resilient group of companies. "Those companies are not traditional property groups as they use various financial engineering techniques and we've seen a sell-off of their shares as they were perceived by some to be overvalued," Sasse said.
Meanwhile the likes of Growthpoint, Redefine and Vukile — which operate more like traditional property companies — are actually trading at 52-week highs.
"Growthpoint's message to shareholders is that we will remain a reliable, conservative group that meets its dividend targets while maintaining and gradually enhancing the value of its assets," said Sasse.
Stanlib analyst Ahmed Motara said the financial results met market expectations without any negative surprises.
"The stock has recently hit a multiyear high, with the South African 10-year bond yield … reaching a multiyear low. In light of recent disappointing South African property company results, Growthpoint's results can be considered a positive outlier, particularly for a stock exposed across a broad swathe of the South African property market," Motara said.
The stock continued to deliver reasonable returns on a steady basis, with overall vacancies below 5%, gearing near 35% and positive portfolio revaluations. Anchor Stockbrokers research analyst Wynand Smit said it was notable that Growthpoint had highlighted "the trend of a slowdown in new retail supply, on the back of retailers being reluctant to grow their footprint in SA".